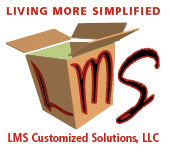 GREETINGS EVERYONE
This has been a long, snowy winter and we are all looking forward to Spring.

We still have some time to go before we can get outside so this month I am going to share some tips on getting paper under control. This way when the weather is nice and we want to be outside we won't feel guilty about the piles we left behind.



Paper Management Tips


GATHER SUPPLIES: First, gather file folders, hanging file folders, a felt-tip pen and large garbage (or recycling) bags or boxes. Every household or office also needs an appropriate type of file cabinet or box; the size will depend on the amount of papers you must keep. Make a commitment to work on this project for at least one uninterrupted hour. Enlist a friend or professional organizer if you need help or encouragement.

DETERMINE WHERE TO START: Start on desktops, countertops or urgently needed surfaces. Your most recently received papers will be here. Resist the urge to start with the papers on the floor or stuffed in paper bags or boxes.

IDENTIFY: Determine the types of papers you receive on a regular basis as you start sorting. Create a neat pile of the papers on the surface you're working on. Pick up the top one. Ask yourself, "What is this? Do I need to keep it? Do I need to take action on this? Or do I just need to file it in case I need to retrieve it later?" Toss as much as you can.

SORT: As you encounter papers that need to elicit an "action," put them in a folder labeled "TO DO" (i.e., class to sign up for, RSVP to send, etc.)

As you encounter bills to pay, separate them out by putting them in a folder labeled "BILLS TO PAY." (Try a bright red folder.)

As you encounter papers that simply need to be read and then disposed of (magazine articles you clipped, newsletters, etc.), put them in a folder labeled "TO READ." Tip: Take this folder with you when you'll be waiting in lines (e.g. doctor's office, dentist, bank, mechanic, etc.)

As you encounter papers that need to be discussed with your significant other or co-worker, put them in a folder labeled "DISCUSS WITH XXXXXXX."

Everything else should be either thrown out or filed neatly according to subject. Sort into simple categories that make sense to you. For example, some home categories might include: medical, pets, taxes, hobbies, outdoor activities, utility bills, car, home improvement, credit cards, insurance, 401K, education, projects.

CONTINUE AND TOSS: Work on getting all surfaces clear of papers using the above techniques. Then, conquer the remaining piles (if any) from the floor or elsewhere. You should find these piles contain more papers for your "toss" category. Remember, only 20% of the things we file will ever be retrieved again. When in doubt, throw it out!

MAINTAIN: From here on out, manage paper daily. Sort mail immediately. Toss out junk mail. Put remainder into "TO READ," "TO DO," or "BILLS TO PAY" folders. (Keep these folders in an easily-accessible spot, i.e., the kitchen.) Make time every week to file everything else in your filing cabinet or box.


© 2009 Articles on Demand™


Winter/Spring Specials

Coaching - If you need focus, guidance and support for completing your project, then coaching may be just what it takes to DO IT. Coaching is individualized and paced to suit your goals, work style, individual circumstances, and time frame. We do the brainstorming and develop a strategy together and you do the legwork on your own.

2 Hour session $100

Closets –The primary source of storage in a bedroom – a well-organized closet can make all the difference. With the change of season it is time to put those summer clothes away and bring out the sweaters.
4 hour session $250

Cars – How do you use your car – Are you a busy parent, a salesperson, volunteer with lots of appointments? I can help you make order out of the mess.

½ hour $35


All sessions include removal of donated items and tax receipt.




Linda is now also a Clever Container Consultant

I am so excited to be a consultant for the CLEVER CONTAINER COMPANY, the first and only national home party business for Organizing! The Clever Container Company combines the finest and most up to date organizational products with time saving tips and ideas to help you stop procrastinating, de-clutter and regain control of your home!

Contact me to find out how you can earn free products or earn monthly income!



Sincerely,
Linda M. Shackleton
Your Professional Organizer